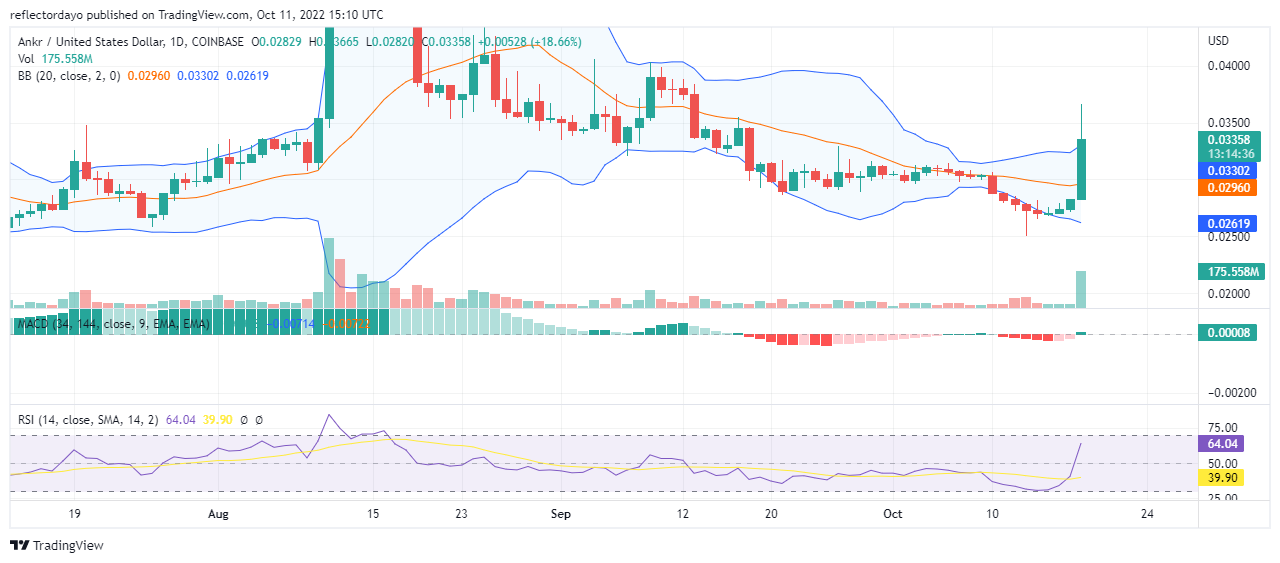 After some period of struggle between the buyers and the seller of ANKR which lasted from the 23rd of September to the 9th of October, The direction of the market shifted to the downside. From the 10th of October to the 14th of October sellers became aggressive. But all along, the bulls continue to limit the bearish advancement to the downside. The bullish support of the price culminated in the gridlock market that we see on the 15th of October. Then gradually, as the day progresses after the deadlock of the 15th, the bulls gain more strength on the daily basis to drive the market in their favour. 
AnkrMarket Price Statistic:
ANKR/USD price now: $0.034

ANKR/USD market cap: $317,072,740

ANKR/USD circulating supply: 9.66B

ANKR/USD total supply: 10,000,000,000

ANKR/USD coin market ranking: #102
Key Levels
Resistance: $0.035, $0.037 $0.040   

 Support: $0.027, $0.025, $0.023
Ankr Market Price Analysis: The Indicators' Point of View
As ANKR/USD becomes strong enough to cut short the bearish trend; they established a support level at $0.027. This forms the basis for the new bullish trend that has resulted in today's very aggressive bullish market performance. In the RSI indicator, between the 12th of October and the 15th of October, the RSI line was moving at the base in the bearish zone (touching the threshold of the oversold region) But between yesterday and today, the measurement of the RSI line made a massive move from 39.5% to 64%. That is around a 50% increment in the value of the market.
The Price even reached the height of $0.037, before traders begin to sell to take profits.

ANKR/USD 4-Hour Chart Outlook
The price was considered to have reached its peak in the third session of today's trading period. Therefore, traders begin to sell. However, the bearish momentum is slowing down and we are beginning to see the bullish support cutting short the bearish advancements. In this timeframe, the pullback was considered to be the result of price correction from the overbought zone. However in the daily chart, despite the bullish momentum, the RSI line has not gotten into the overbought zone. In the ANKR market, there is room for more bullish performance.
Early Stage Presale Live Now
Doxxed Professional Team
Use Cases in Industry – Offset Carbon Footprint
Related