BabyDoge ranked as the top cryptocurrency by burn rate.
HC Capital, a cryptocurrency data analysis platform, has ranked Baby DogeCoin (BabyDoge) as the number one cryptocurrency project with the highest burn rate.
The crypto data provider made this known in a tweet shared yesterday. According to the ranking, BabyDoge is followed by other cryptocurrency projects such as Volt Inu, Pig Finance (Pig Token), and Cronos (CRO), among others.
Celebrating the feat, Baby Doge Coin referred to the project as the "King of Burn." 
King of burn 👑 https://t.co/IrkLILIOmS

— BabyDogeSwap.com LIVE (@BabyDogeCoin) October 20, 2022
Baby Doge Coin Burn Efforts
It is not surprising to see Baby Doge Coin ranked ahead of other cryptocurrency projects regarding token burn rate. The team behind Baby DogeCoin has been consistent in its quest to incinerate a huge chunk of the token's total supply. Out of the 420 quadrillions total supply, BabyDoge claims it has burnt a total of 199.1 quadrillions.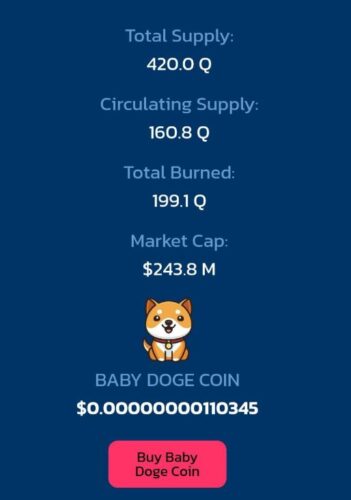 As reported by TheCryptoBasic, BabyDoge conducted the biggest burn by incinerating 50 quadrillion tokens worth $88 million in one transaction.
In addition, BabyDoge also burnt three quadrillion tokens to celebrate its first birthday in June. Aside from these groundbreaking burns, the BabyDoge team also incinerates quadrillions of tokens from its total supply every month. In February, Babydoge burned 4.8 Quadrillion Tokens, 3.2 Quadrillion in April, and One Quadrillion in June.
BabyDoge team is still trying to accelerate its token burn efforts. It recently announced that it would use part of the fees obtained from its decentralized exchange, Baby Doge Swap, to buy and burn the token.
However, the massive burn efforts are not reflected in the cryptocurrency's price. According to data from Coingecko, BabyDoge is down 81.5% from its all-time high, as it currently changes hands at $0.000000001180.
Cryptocurrency Burns
Several cryptocurrency projects have recently adopted burning part of their token supply to boost an asset's value. Shiba Inu is considered by many as the cryptocurrency project that started the burn initiative to reduce supply. Shiba Inu's burn program has incinerated billions of SHIB tokens in months. Interestingly, other cryptocurrency projects followed Shiba Inu to burn a portion of their tokens' total supply to boost their value. 
The Terra Classic community is also making significant progress in burning a portion of the token's total supply. So far, above 18B LUNC have been burnt.
– Advertisement –