Bitcoin (BTC) whales accumulate more of the asset as spot trading dominance sees a recent massive surge.
While some investors see Bitcoin's current underperformance as a reason to be wary, others believe the asset's current price actions are an opportunity to amass more tokens, as they reckon it is currently undervalued. Whales, whose movements are major determinants of an asset's price actions, appear to have shown more interest in Bitcoin
Following Bitcoin's journey to the $20k zone, Bitcoin's spot trading volume on the world's largest exchange, Binance, saw a massive dominance, as revealed by CryptoQuant's CEO Ki Young Ju in a recent analysis.
As the asset plummeted to the $20k level in July, spot trading suddenly saw a surge in response, hitting a dominance rate of 84% on Binance – levels that hadn't been witnessed for over two years. Additionally, BTC spot trading on America's largest exchange, Coinbase, skyrocketed, hitting a dominance rate of 9% as of press time.
"Since Bitcoin price hit the $20k level, Binance spot trading volume dominance skyrocketed, and it's now 84%. The second biggest is Coinbase, 9%," Ki highlighted in a tweet, as he shared a chart to corroborate his analysis.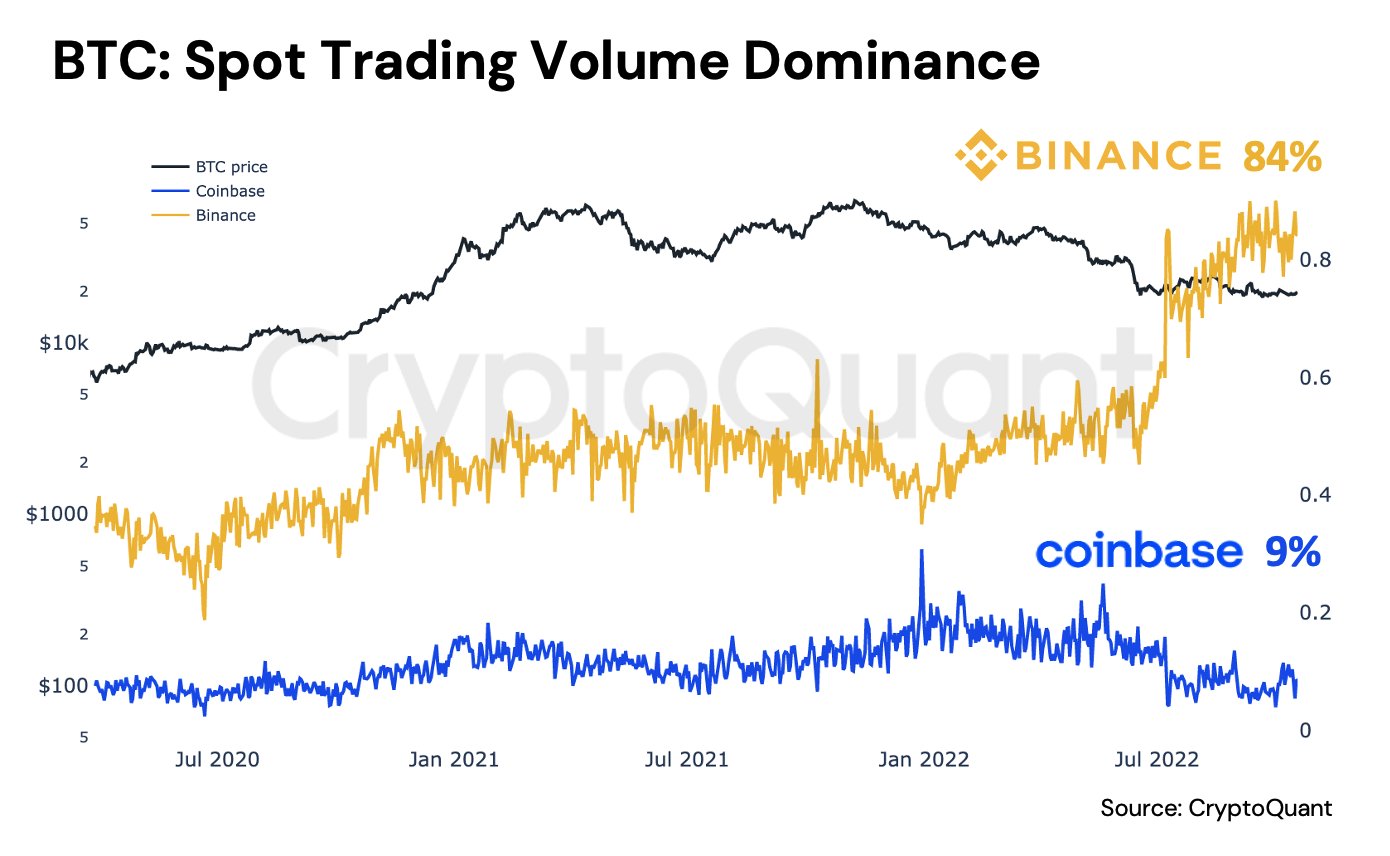 Ki admitted that he's uncertain of the investors behind this massive surge. Still, he limited his options to institutions utilizing prime brokers and large crypto investors looking to leverage Bitcoin's undervalued price condition.
Furthermore, Ki pointed out that BTC exchange volumes on spot trading have increased by over 2,000% in the past six months, as they see a 20x rise. 
"BTC spot trading volume for all exchanges increased 20x over the past six months. The volume renewed a year-high last month, but not much change in the daily closed price, indicating someone(s) is buying all the sell-side liquidity," Ki noted in a separate tweet.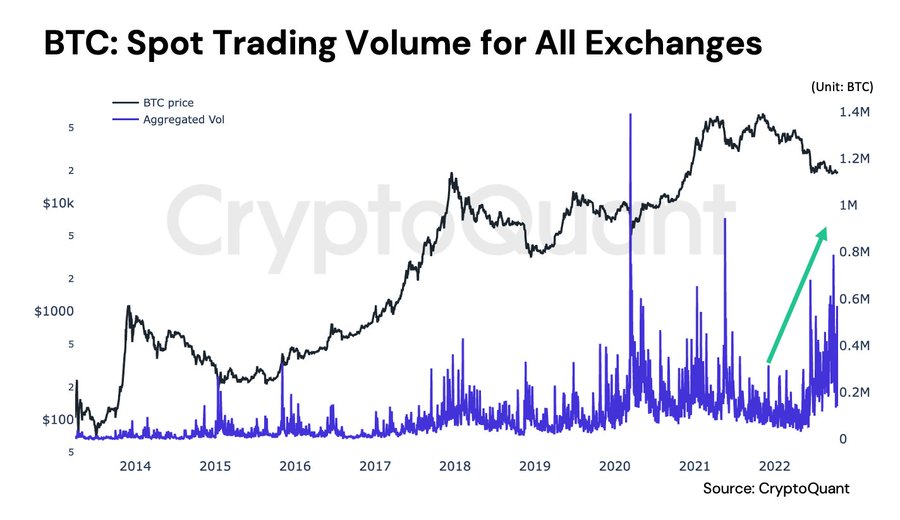 This increase in spot trading volume could either have been contributed by a growing trend of whale accumulation, or it could be the result of wash trading due to Binance's recently-introduced zero-fee trading policy. Ki admitted that either or both of the mentioned could be the case, but he highlights that Binance, the world's top exchange, does not need any form of wash trading to boost its trading volume stats.
A trend that points to whale accumulation is the recent movement of large bulks of BTC tokens that have been witnessed of late. The Crypto Basic recently reported the movement of about 48,000 BTC tokens from Coinbase Pro.
Additionally, Ki Young Ju pointed out that Bitcoin has reached the zone at which it tends to attract much interest from institutional investors. 
– Advertisement –