Bitcoin dipped from the comfortable accumulation range of $18.8k – $19k to near $18.6. This is an extremely odd price action since the DXY (Dollar Price Index) has been rising, and the stocks are up. Why is Bitcoin behaving this way? Let us look at the Bitcoin price prediction of the day and shed some light on it.
Bitcoin has been in turmoil since last month. Since Septembear had Bitcoin clinging to $19k, people thought the "Pumptober" would be better. And it was good during the initial times as Bitcoin could hover over $20 for a long time. But that rally relief didn't last long Bitcoin is once again clinging to $19k.
Today, it dipped to near $18.5 levels before bouncing. And the trading charts have- started to show signals that the crypto crowd show might be too good to be true. Here is a look at the dollar index market to make sense of these occurrences.
The USD dollar Index is Rising
DXY moved to 113.20 today and broke a five-day rise. While there were some losses before, as the major currencies were flat, that was before the release of the CPI (Consumer Price Index) didn't tell us much about the positive comments coming Fed governor.
Inflation Numbers
The Inflation rate has been falling since July. While there has been some decrease in the pace of this fall, the inflation rate has now met the market expectation and now stands at 8.1% – somewhat exactly like the market predicted.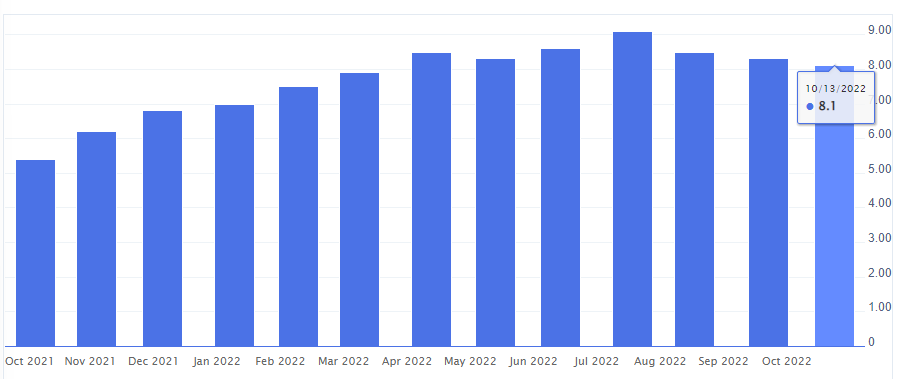 Impact of these figures on the Wider Crypto Market
The crypto market might take a bearish turn with higher CPI figures. These numbers aren't looking that good, and the Federal market will consider these when formulating upcoming policies. The recent hawkish Fed bets – a decision to increase the interest rate – is proof of that.
If the market conditions improve, risky and speculative assets like cryptocurrencies will be seen in a new light, prompting many to come forward and invest.
Bitcoin Price Prediction
Bitcoin is trading at $18.8k at the time of writing and is down by 1.74% in the last 24 hours, with a 24-hour trading volume of $28.3 billion.
Bitcoin price action has started to paint a more positive picture as the CPI numbers are about to be revealed. While it dropped steeply to $18.6 at around 2:30 pm today, it bounced back instantly. And Twitter watchers are getting wild about this recent action.
This would be a dream but maybe too good to be true.
I suggest to not get rekt on high leverage. Take it easy. https://t.co/6Zf4an5RMw pic.twitter.com/IENbj4evj2

— Muro (@MuroCrypto) October 13, 2022
Use @MuroCrypto shows that the technical indicators hint that Bitcoin will be near $20.5k near the middle of next week. That might establish a significant uptrend and push the Bitcoin price further, nearing the glory days.
However, he has also warned the users not to opt for high leverage because what we might be here is a bull trap. And the rest of the Twitter comments say that many agree.
Equities looking at crypto thinking da fuq going on there pic.twitter.com/fd93n7tTks

— TraderSZ (@trader1sz) October 13, 2022
This price action speaks, in large, of the decoupling of Bitcoin from the traditional equities market.
Current daily trading charts are now painting a good picture for Bitcoin. It trades in the red zone, with the next immediate hourly resistance at $18.6. The price action moved up and down by 1k within a 1-minute chart.
CPI Numbers are here
The CPI numbers were announced, and the results are hotter than expected.
CPI 0.4%, M/M, Exp. 0.2%
CPI 8.2% Y/Y, Exp. 8.1%
CPI Core 0.6% M/M, Exp. 0.4%
CPI Core 6.6% Y/Y, Exp. 6.5% CPI
The moral of this story is never have position open into event, or get fucked more often than not 😭 pic.twitter.com/JFRjRBfyUg

— SalsaTekila (@SalsaTekila) October 13, 2022
And these numbers led to a minor uptick in Bitcoin price, which has now accumulated within the $18.3 to $18.4 if we go by the minute chart.
Preventing issues by investing in Better crypto assets
Today's whiplash market action can lead to immense losses for the wider crypto market. Many analysts wished for a massive upswing by this accumulation has proved them wrong.
Therefore, it is better to invest in better cryptos – like IMPT. The Impact token – IMPT – is a green cryptocurrency currently undergoing presale and presenting a huge upside with its eco-friendly approach to crypto. So far, the project has raised upwards of $4 million within a week, and more news will likely arrive.
Read More
Early Stage Presale Live Now
Doxxed Professional Team
Use Cases in Industry – Offset Carbon Footprint