If Walmart is serious about crypto, Bitcoin could skyrocket
Bitcoin as a payment option may become more popular than you think. Suresh Kumar, Walmart's global chief technology officer, discussed some of the ways the giant retailer plans to make crypto a key part of its future payments strategy, both for physical and virtual goods, at Yahoo Finance's All Markets Summit.
"Crypto will become an important part of how customers transact," Kumar predicted.
Bitcoin, as the most widely used cryptocurrency for payment, stands to benefit the most. If a major retailer like Walmart goes all-in on cryptocurrency, it would be a huge validation point and a bullish indicator for Bitcoin.
The Metaverse and crypto
So, what is driving this newfound acceptance of cryptocurrency as a payment option? Walmart's embrace of the metaverse has been a major factor. According to Kumar, Walmart customers are being inspired to buy and discover new products as a result of the amount of time they spend in virtual worlds. They want to pay for virtual goods, such as new merchandise for an online avatar, once they've joined these virtual worlds. This is where cryptocurrencies like Bitcoin come into play.
Walmart has recently increased its support for the metaverse. Walmart Land and Walmart's Universe of Play were launched on Roblox, a popular metaverse gaming platform, in September. Walmart was clearly intrigued by the amount of time customers spent on the platform. Roblox had 52.2 million daily active users, 11.3 billion engagement hours, 12 million creators, and 32 million different experiences as of June 30.
Social media & crypto
Walmart also stated that the new ways people use social media have compelled the company to reconsider the payment options it should provide to customers. Walmart livestream events, for example, have proven to be an excellent way for customers to learn about new products and see how they are used in real life. While watching these events, you may want to purchase products featured in them, and crypto is being investigated as a frictionless way for customers to pay for these goods online. Walmart has experimented with shoppable livestream events on platforms such as Twitter, TikTok, and YouTube.
Social media is also blurring the line between e-commerce and cryptocurrency, particularly with regard to non-fungible tokens (NFTs). Customers who buy NFTs from online marketplaces now want to share them on social media. In response to this need, Facebook and Instagram (both from Meta Platforms) now allow you to link your virtual wallet containing these NFTs to your social media accounts. Again, your virtual wallet that holds these NFTs may also hold cryptocurrencies, so as Kumar mentioned in his presentation, crypto is right in the middle of what customers want to do.
Being cautious is in order
The important caveat here is that Kumar only mentioned the metaverse and social media. For the time being, Walmart appears to be learning how to incorporate cryptocurrency into its metaverse and social media strategy. He mentioned that cryptocurrency could cause a "disruption in payment options," but he did not say that Walmart stores would start accepting Bitcoin right away. As a result, some of the headlines you may be seeing on social media may be misleading.
Obviously, the most significant validation for Bitcoin would be if Walmart eventually made Bitcoin payment a key part of both its online and in-store experiences. However, at the moment, Walmart does not accept cryptocurrency payments. Walmart has long been rumored to be considering Bitcoin as a payment option, but no official announcement has beenmade.
Obviously, the fact that a major retail giant like Walmart is becoming more involved with the metaverse and cryptocurrencies is exciting news. People frequently point to Walmart's patent filings for NFTs and crypto tokens, as well as the company's recent embrace of in-store Bitcoin ATM machines, as evidence that the company is getting serious about crypto. If and when Walmart goes all-in on cryptocurrency, it could be a huge buy signal for Bitcoin.
Nike's Web3 foray isn't about technology, it's about culture
Nike is another company making waves in Web3 and the metaverse.
The athleisure icon will debut a virtual experience on the online gaming platform Roblox in November 2021. Nikeland has attracted 6.7 million global visitors and over 21.6 million total visits since its inception. Although it does not match Vans' 82 million visits, Nike CEO John Donahue deemed the campaign successful enough to continue "the positive momentum and energy" as part of the company's digital strategy.
The Swoosh made a significant investment in Web3in December 2021, acquiring non-fungible token (NFT) studio RTFKT. Nike launched a series of NFT drops in the months that followed, beginning with its Cryptokicks – a collection of 20,000 sneaker NFTs, including one designed by artist Takashi Murakami that sold for an eye-watering $134,000. Since then, the company has experimented with exclusive drops for NFT holders as well as other phygital (physical and digital) items.
According to the statistics
Nike's Web3 strategy has paid off handsomely.
According to data, The Swoosh has earned nearly $185 million in NFT sales revenue, outperforming brands such as Adidas, Gucci, Dolce & Gabbana, and Tiffany & Co., which have earned less than half of that total.
But there's a big asterisk in all of this. Nike has not disclosed the terms of its RTFKT acquisition, and its most recent earnings call provided no insight into the operational costs of its Web3 venture. It's impossible to say how financially successful – or unsuccessful – these campaigns were. Nike's anticipated annual revenue for 2022 is $46.7 billion.
But one thing is certain: Nike has quickly established itself as one of the most beloved brands in the nascent Web3 space.
The figures don't lie either. RTFKT's Discord server now has just under 232,000 members. Adidas, on the other hand, has nearly 57,000 at the time of writing. CryptoPunks and Bored Apes Yacht Club (both owned by Yuga Labs) are also trailing, with 71,000 and 172,000 followers, respectively.
Nike has been praised for its community-building abilities by Crypto Twitter. However, Nike's Web3 move is more than just a successful case study in community building; it is a perfect example of tapping into emerging cultures to reach new audiences and stay ahead of the competition.
Throughout the years, Nike's strategy has been centered on culture. Beyond sports performance, the brand has established itself as a cultural icon in sports, music, lifestyle, and art. It's no surprise that the same approach is being taken in the nascent Web3 and metaverse spaces.
In a 2019 earnings call, Netflix co-CEO Reed Hastings said something poignant: "We compete (and lose) more against Fortnite [an online video game] than HBO," he said. "I think of it as us winning time away from other activities – entertainment time."
According to Hastings, the race was not the so-called streaming wars. As strong as Disney's catalog was, he recognized that the real battle was for people's attention, which was increasingly going to YouTube and gaming behemoths like Fortnite.
Nike appears to have come to the same conclusion about Web3 and the metaverse. The Swoosh isn't just competing in sales with Adidas, Under Armour, and other apparel behemoths. It is competing for cultural relevance with challenger esports brands and emerging digital fashion houses, many of which are gaining traction with Generation Z and gaming circles.
Although not yet at the level of Fortnite, digital fashion brands and gaming organizations have carved out a niche for themselves in internet culture and the digital economy, selling skins, wearables, and collectibles. Some have even expanded into physical merchandise to capitalize on their mainstream popularity. The same can be said for Yuga Labs, which was recently valued at $4 billion.
In 2021, FaZe Clan expects to earn $50 million. This is dwarfed by Nike's $12.7 billion for the first quarter of 2023 – and the sports giant intends to keep it that way.
By the time Netflix realized it was in a race with Fortnite, the competition had already gotten out of hand. The Swoosh doesn't appear to want to make the same mistake. Instead, Nike has woven itself into the fabric of Web3 culture long before the competition.
That is the genius of its Web3 play. Unlike other traditional brands that see Web3 as a new technology, Nike recognizes that technology is only one facet of a much larger phenomenon: a new cultural movement.
Can Starbucks Bring Mass Adoption to Web3?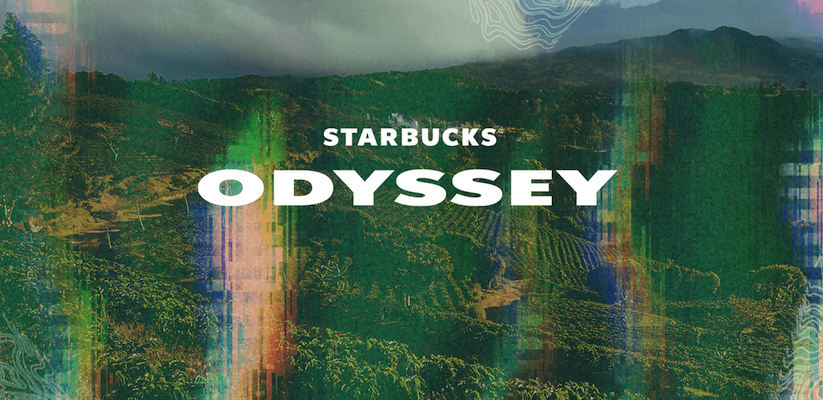 How long will it be until using crypto for a standard consumer purchase, such as buying a cup of coffee, is a joy rather than a gimmick? Starbucks Odyssey, the new non-fungible token (NFT)-based reward program, may bring us one step closer to making this a reality, or at the very least provide some direction.
Early indications of clever design
According to recent announcements, the program is still in the works, and the full details have yet to be revealed. However, based on what we know so far, Starbucks has made some encouraging decisions that can serve as a model for other corporate Web3 initiatives.
First and foremost, Starbucks Odyssey comes as an addition rather than as a replacement. Starbucks' current loyalty program is arguably the most successful in the world, with nearly 60 million rewards customers worldwide and 30 million in the United States alone. Through incentivizing repeat business, upselling, and customer personalization, the loyalty program accounts for roughly half of all Starbucks revenue.
Given the newness of the technology and the uncertain success of an NFT-based program, Starbucks would be taking a big risk by abandoning its wildly successful traditional rewards program in favor of a Web3-based program. By making Starbucks Odyssey an optional, additional rewards program, the company can expand on the existing program with complementary products while minimizing risk to the cash cow, allowing for greater flexibility in the future if the dynamics surrounding Web3 technology change.
Second, the program naturally aligns with key demographics. Starbucks' largest customer segment is millennials aged 25 to 40, who account for 50% of the company's business, followed by young adults aged 18 to 24. Growing and retaining this customer base will become increasingly important as the Starbucks brand matures and faces challenges such as labor disputes, rising supply chain costs, and labor shortages.
NFTs, despite being a relatively new technology, are appealing to this target user base. The Gen Z generation has the most investment experience and is most interested in NFTs. Millennials are the second-largest demographic of those invested or interested in NFTs, which bodes well for Starbucks' key consumer segments.
Third, all signs point to Starbucks employing top-tier user interface/user experience (UI/UX) design to bridge the gap between NFT/blockchain natives and novices. Starbucks' Mobile Order and Pay functionality has been a huge success, thanks in part to its seamless UI/UX design. Starbucks collaborated with Forum3, led by co-founder Adam Brotman, to create the Odyssey reward program. Prior to co-founding Web3, Brotman was the chief digital officer at Starbucks, where he helped design the Mobile Order and Pay system. Based on this, it seems reasonable to expect Starbucks Odyssey to strive to replicate the seamless experience that customers currently enjoy.
Ironically, this may imply concealing many of Web3's distinguishing features, at least in the short to medium term. "It happens to be built on blockchain and Web3 technologies, but the customer – to be honest – may very well not even know that what they're doing is interacting with blockchain technology," said Executive Vice President and Chief Marketing Officer Brady Brewer.
Moving past marketing
Starbucks Odyssey appears to be a promising Web3 technology implementation for today's environment. However, realizing Web3's full potential will necessitate some difficult design decisions. Here are a few examples of what we anticipate:
Managing the Impact of Speculation
Starbucks has announced that NFT holders will be able to trade them in peer-to-peer (P2P) marketplaces. As the gaming industry has discovered, peer-to-peer trading of NFTs attracts speculators, whose presence fundamentally alters the experience of organic users, often negatively. Starbucks will need to create marketplaces and other mechanisms to mitigate the impact of speculation while also ensuring that the rewards program continues to provide the desired incentives.
Fully utilizing underlying Web3 technology
Web3 technology, particularly blockchain, benefits users by giving them greater control over their assets. To fully reap these benefits, users must interact with the underlying technology, which the current Odyssey design explicitly does not do. It remains to be seen how Starbucks will handle user requests for features like self-custody – and whether users will want such features in the first place.
Launching in-demand NFTs and turning a profit
There is no doubt that Starbucks will benefit from being a leading company involved in Web3. Many customers will be delighted to receive free NFTs. But Starbucks will almost certainly want to go beyond marketing expenses and establish a profitable venture that generates both direct and indirect revenue.
The market has demonstrated that just because an NFT exists does not imply that consumers are interested in paying for it. Starbucks faces a daunting challenge in creating digital rewards that are appealing to its customers, particularly its Gen Z demographic, enough to serve as the foundation of an effective rewards program and attract ongoing revenue streams. Achieving one or both of these goals is required to make this program more than a passing fad until the next emerging technology appears.
While it is unclear how Starbucks will overcome these challenges, Starbucks Odyssey will serve as an intriguing and highly informative test case for corporate Web3 implementation. Most notably, it serves as a test of Web3's adoption potential and limitations. Will Starbucks finally make Web3 mainstream now that the ultimate consumer-focused company is at the helm?
Related
Dash 2 Trade – High Potential Presale
Active Presale Live Now – dash2trade.com
Native Token of Crypto Signals Ecosystem
KYC Verified & Audited