Cryptocurrency projects and related organizations have been facing much heat recently, due to issues within the ecosystems. Terra, one of the top projects at a point, is now way down in value, putting investors in a state of fear and uncertainty. But is LUNC's price potential really tied to the fundamentals and working of the ecosystem entirely? Probably not.
Projects in the blockchains sector have been marketing themselves as a haven for people who support decentralization and high security. These projects, which were in high demand during the bull run are now on the verge of bankruptcy. Even those that seem to be doing alright financially are still subjected to criticism from investors. This is mainly due to various shortcomings within their respective ecosystems.
Overall, it is safe to assume that while the blockchain sector has definitely been growing, there have been several problems associated with it. Surely, these cannot just be solved soon and is likely to take several years from now. While there are critics who commend the sector for growing so much, it has to be understood that this is just the state of infancy of the blockchain sector.
The cycles in cryptocurrencies, like any other markets, have been at a record low as of now. After BTC fell from its all-time high of more than $67,500 in November 2021, the entire market has seen a drastic decrease in value. The total market cap of cryptocurrencies was worth more than $2.9 trillion last year, as compared to the current $920 billion.
About LUNC
As mentioned above, LUNC's price potential has been something that the community has been keeping an eye on keenly. This is majorly because it is one of the only top projects to sustain business despite losing almost all of its value. But in order to understand LUNC's price potential or where it might be moving from here on, it is important to understand everything about it.
What is LUNC?

Founded by Daniel Shin and Do Kwon in January 2018, LUNC was initially launched as LUNA. The project was created in order to encourage the mass adoption of a stable and more secure payment system through blockchain technology. The blockchain of which LUNA was the native token is called Terra. Terra blockchain, which was owned by Terraform Labs was also headed by Do Kwon. Both Do Kwon and Daniel Shin were highly experienced professionals in the blockchain space way before they created LUNA.
For this same reason, LUNC was soon to become one of the biggest projects in the cryptocurrency space. The investors of LUNC(then LUNA) were also some of the biggest names in the finance space. Some of these included names like Kakao Ventures, Hashkey, Galaxy Digital, Tor Kenz Capital, LuneX Ventures etc. The main function of LUNC(then LUNA) was to maintain the stability of UST, Terra's stablecoin.
Ideally, LUNC was created as a peg for UST, which had no traditional collateral like gold or the dollar. By burning the equivalent value of LUNA if the UST value exceeded $1, more UST would be minted. This would thereby lower its value. On the other hand, if the UST price dropped below $1, they were exchanged for LUNA, which would then make UST more valuable.
In 2021, the demand for LUNC tokens was at an all-time high which contributed to its soaring prices. LUNC(then LUNA), which was trading at around $0.4 in January took off in price, helping it reach its highest price of about $113. However, the following crash caused its value to go down to unexpected price ranges.
What happened to LUNC?
LUNC and UST were dependent on each other to maintain the ecosystem efficiently. However, the stable functioning of this was affected on May 7, when more than $2 billion worth of UST was unstaked from the Anchor Protocol. This caused hundreds of millions of tokens to be liquidated.
As a result. UST's price went from being worth $1 to $0.91. This provided a massive arbitrage opportunity for users since they were able to swap $0.91 UST tokens for LUNC(then LUNA) tokens worth $1. This caused an avalanche effect, where users started repeating this process multiple times in higher quantities. This caused the cost of LUNC to plunge. After a point, the token had lost more than 99.99% of its value and was delisted from almost every exchange.
LUNC's price potential
Practically speaking, the value of LUNC would never reach its all-time high. Even speculating a $1 price point for LUNC would be unrealistic. This would be because it would require the project's market cap to be in trillions of dollars. However, for those who have invested in it after the crash or have been trading in LUNC, the returns have been handsome.
The price of LUNC has seen a steady increase despite its crash and the criticisms it has faced. This is mainly due to the community that seems to still be bullish on the token. While there does seem to be much hype around the project, it is important to have a realistic approach. Do Kwon and Daniel Shin was recently summoned by Korean Lawmakers and have been more or less considered criminals by the nation. This could have a major adverse effect on LUNC.
However, in the mid-term, it could be a good option to park funds in. Although, this would only make sense as long as the popularity and community of Terra seem to stay strong. Naturally, this would also mean the project growing. While the potential for LUNC seems to be bleak, it can be considered a project with promise based on the upcoming developments. That and support from the community could be the contributing factors to its growth.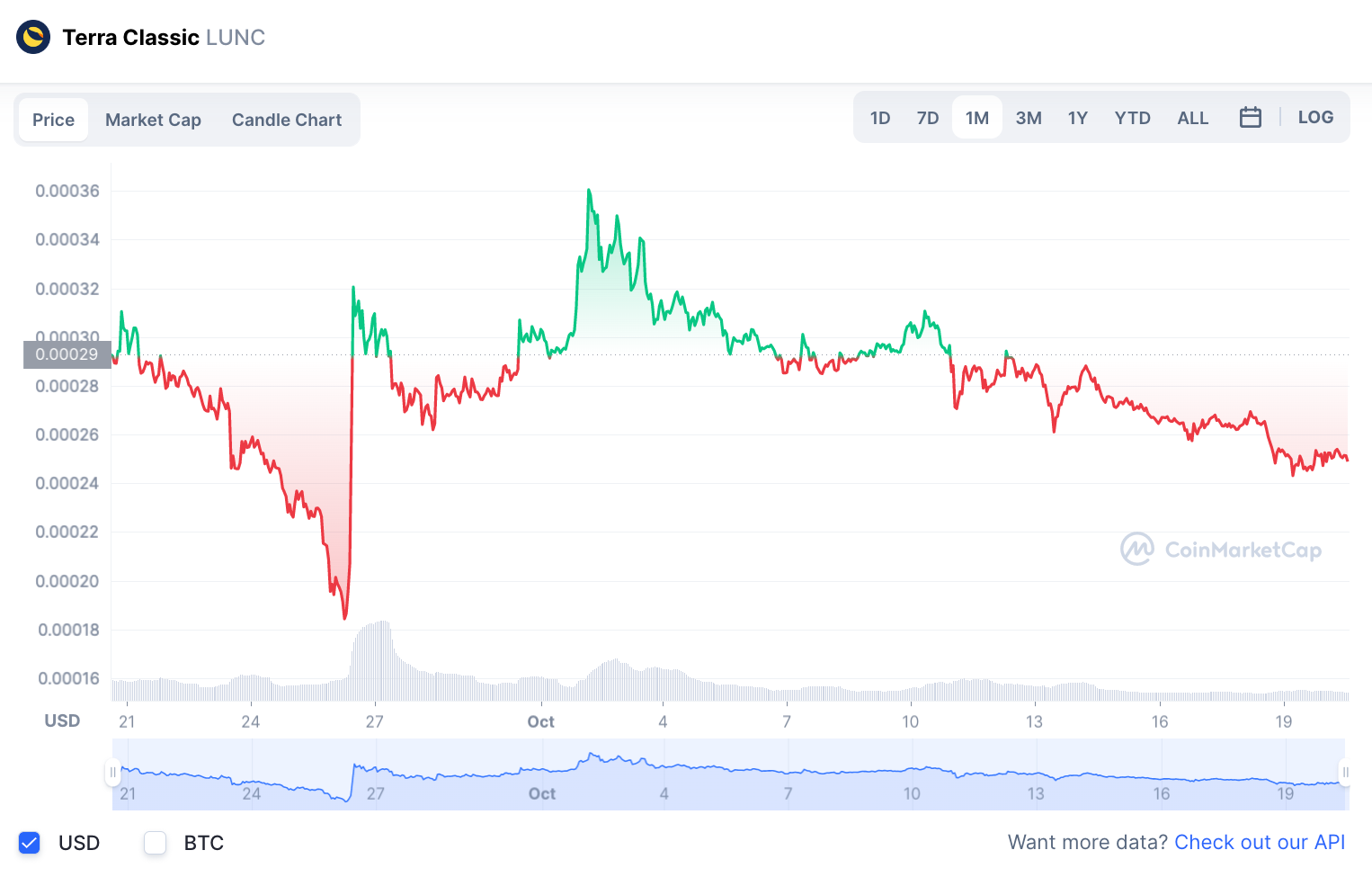 At the time of writing, LUNC is trading at around $0.00024 with a market cap of $1.6 billion. With a decent bullish sentiment and community support, LUNC may look for an upward movement in the upcoming days. If it does not achieve this, it is likely that LUNC will move downwards. The next support in that case for the LUNC token would be around $0.000189.
Read More:
Early Stage Presale Live Now
Doxxed Professional Team
Use Cases in Industry – Offset Carbon Footprint