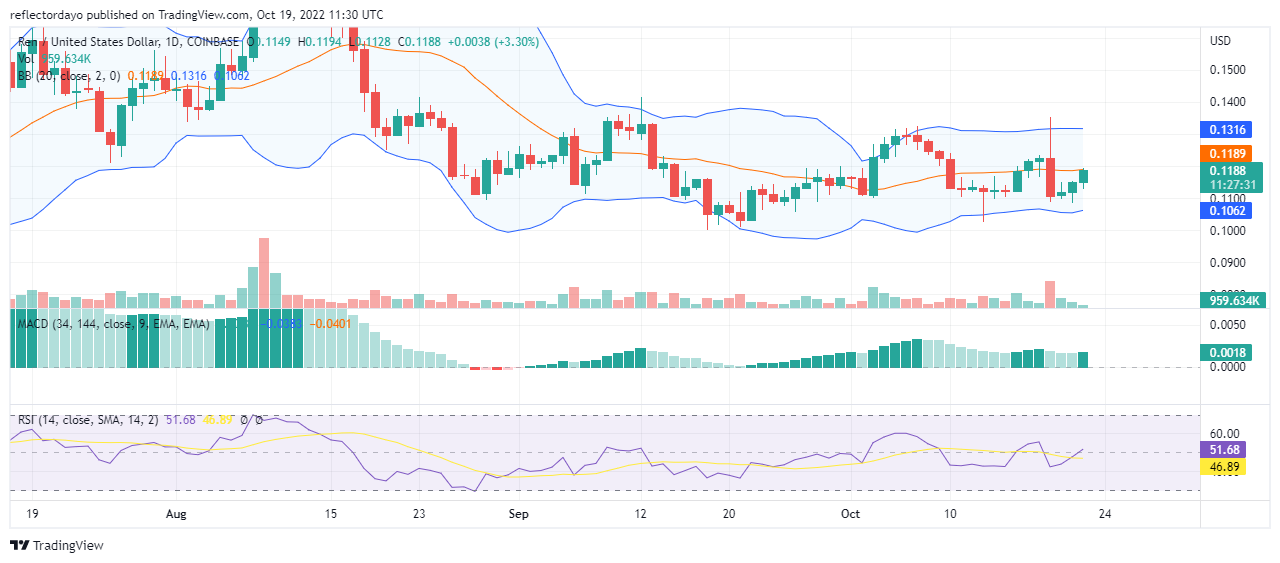 The Ren market price went flat from the 11th to the 15th of October. During those times of market indecision, the price experienced wide pull and push from the buyers and the bears, but at the end of each day, the market always close near the opening price. But on the 16th of October, the price of the crypto performed to the upside with a very strong bullish move. This bullish move went on for three days, but the momentum reduce on the second and third. And by the fourth day, the sellers took over the market. 
Ren Market Price Statistic:
REN/USD price now: $0.1198

REN

/

USD market cap: $117,111,452

REN/USD circulating supply: 999,037,500.36

REN/USD total supply: 999,999,633

REN/USD coin market ranking: #175
Key Levels
Resistance: $0.1200, $0.1250, $0.1300

 Support: $0.1100, $0.1050, $0.1000
Ren Market Price Analysis: The Indicators' Point of View
The Ren market broke away from the price consolidation on the 16th of October. What should have been a bullish trend was cut short on the 19th of October which was the fourth day of the bullish trend. On that day, the market witnessed high volatility. Initially, on that day, the market went in favour of the buyers, but sellers pushed the price down from the height of $0.1317 to $0.1101. This price level was lower than the previous support where the market had ranged sideways for 5 days before it broke away to the upside. This new lower support is now the basis for the bullish performance that we can see in the market. The candle representing today's market is much more bullish than the previous ones. This shows that the momentum is increasing by the day. The Relative Strength Index measures a market recovery of 54%. The bulls are regaining the ground that they lost to the bears on the 19th of October. 

REN/USD 4-Hour Chart Outlook
Bears became strong in 5th session of yesterday's market and they halted the bullish progress. However, they were not strong enough to take the control of the market. From the second session of today's market bulls have control of the market. The price may reach higher levels in today's market.
The new presale token called Dash 2 Trade (D2T) has been able to raise $1.25 million in a few days. This is an indication that the crypto has the potential for an upside performance even better than some of the famous cryptos.
Related